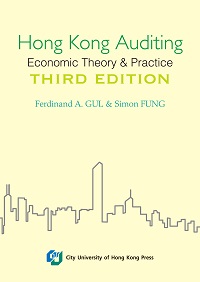 Over the years auditing has developed into a specialised function with complex ethical, legal and economic implications. The role of auditors in providing credibility is even more important in a society like Hong Kong, which relies heavily on its reputation as an international financial and business centre. The financial crises and accounting scandals reported in recent years, which led to economic meltdowns and massive loss in capital resources across the globe, highlights the vital role of auditors as gatekeepers and the importance of high quality auditing in ensuring corporate transparency and honest financial reporting.
The third edition is thoroughly revised to take into account the new Companies Ordinance (Chapter 622, effective 2014) and Hong Kong Standards on Quality Control, Auditing, Assurance and Related Services (updated June 2014), and numerous developments of a full range of auditing topics since the previous edition, including:
- Auditor's legal duties and liabilities
- Auditor quality
- Auditor's ethical behaviour
- Corporate governance
- Statistical sampling
- Pitfalls in computerisation of accounting services
- Use of computer-assisted-audit-techniques (CAATs)
- Audit reporting
- Auditing standards
Along with recent development of the profession and cutting-edge research findings, this book boldly draws on economic theories to explain aspects of auditing. Certain economic concepts that are applicable to all aspects of an audit are addressed for students and practitioners alike.
By utilising graphics, tables and intriguing cases, this book will serve as a useful companion for accounting and legal practitioners. This is also a textbook for students preparing for university studies, practical training and professional accounting examinations. At the end of each chapter, there are dozens of exercises, cases and discussion questions for the benefits of teachers, students and life-long learners.
章節
1. Development of the Auditing Profession(p.1)

Learning Objectives(p.1)
Key Ordinances / Standards Covered in the Chapter(p.1)
1 Early Developments(p.2)
2 Influences on the Development of Auditing(p.6)
3 Auditing Defined(p.8)
4 Types of Auditors(p.13)
5 The Accountancy Profession(p.15)
6 Organisation of Accounting Practice(p.20)
7 Demand for Auditors' Services(p.22)
8 Summary(p.24)

2. Economic Theory of Auditing and the Development of Standards(p.29)

Learning Objectives(p.29)
Key Ordinances / Standards Covered in the Chapter(p.29)
1 Auditing Theory(p.30)
2 Agency Theory(p.31)
3 Agency Theory in the Context of Auditing(p.34)
4 Auditing Concepts(p.38)
5 Auditing Standards(p.42)
6 Auditing Procedures(p.52)
7 Main Elements of Auditing Theory(p.52)
8 Judgement in Auditing(p.52)
9 Quality Control(p.56)
10 Summary(p.57)

3. Rights, Duties and Liabilities of Auditors in Hong Kong(p.71)

Learning Objectives(p.71)
Key Ordinances / Standards Covered in the Chapter(p.71)
1 Statutory Rights, Duties and Obligations of Auditors(p.72)
2 Quasi-Legal Duties under the Auditing Standards(p.78)
3 Audit Contract between Auditor and Client(p.81)
4 Common Law and Equity [ 21 ](p.82)
5 Summary(p.96)

4. Professional Ethics and Auditor Independence(p.125)

Learning Objectives(p.125)
Key Ordinances / Standards Covered in the Chapter(p.125)
1 Professionalism and Ethical Pronouncements(p.126)
2 Independence(p.129)
3 Discipline(p.137)
4 The Economics of Compliance with Ethical Rules(p.142)
5 Summary(p.145)

5. Audit Overview and Evidential Matter(p.161)

Learning Objectives(p.161)
Key Ordinances / Standards Covered in the Chapter(p.161)
1 Overview of the Audit Process(p.162)
2 Evidential Matter(p.174)
3 Summary(p.196)

6. Risk Analysis and Materiality(p.225)

Learning Objectives(p.225)
Key Ordinances / Standards Covered in the Chapter(p.225)
Auditing in Focus 6.1 — Cost to Audit High Risk Clients(p.226)
1 Materiality(p.228)
2 Audit Risk(p.229)
3 Risk of Material Error(p.237)
4 Risk - driven Audits(p.239)
5 Systems-based Audits(p.243)
6 Risk Analysis of a Business as a Going Concern(p.249)
7 Audit Risks and Audit Fee Determination(p.253)
8 Summary(p.254)

7. Control Risk Assessment(p.279)

Learning Objectives(p.279)
Key Ordinances / Standards Covered in the Chapter(p.279)
1 Nature and Importance of Internal Control(p.280)
2 Methodology for the Study of Internal Control(p.288)
3 Limitation of Internal Control(p.296)
4 Fraud and Errors(p.297)
5 Sarbanes-Oxley Act(p.302)
6 Summary(p.304)

8. Audit Sampling and Statistical Tests(p.345)

Learning Objectives(p.345)
Key Ordinances / Standards Covered in the Chapter(p.345)
1 Statistics as an Audit Tool(p.346)
2 Audit Process and Statistical Sampling(p.348)
3 Compliance Testing(p.355)
4 Substantive Testing(p.360)
5 Summary(p.385)

9. Auditing in an IT Environment(p.407)

Learning Objectives(p.407)
Key Ordinances / Standards Covered in the Chapter(p.407)
1 Impact of IT Systems on Auditors(p.408)
2 Characteristics of IT Systems(p.409)
3 Internal Controls in an IT System(p.413)
4 Batch Processing and Online Processing Compared(p.426)
5 Distributed Processing System(p.428)
6 Auditing Standards in an IT Environment(p.428)
7 Study of IT Controls(p.430)
8 Auditing in an IT Environment Using CAATs(p.447)
9 Summary(p.454)

10. Auditing Transactions and Account Balances(p.481)

Learning Objectives(p.481)
Key Ordinances / Standards Covered in the Chapter(p.481)
1 Financial Report Assertions(p.482)
2 Tests of controls(p.484)
3 Substantive Tests / Procedures(p.487)
4 Relationship between Tests of Controls and Substantive Tests(p.500)
5 Dual Purpose Tests(p.500)
6 Summary(p.501)

11. Auditing the Revenue and Receipts Cycle(p.511)

Learning Objectives(p.511)
Key Ordinances / Standards Covered in the Chapter(p.511)
1 Description of the Revenue and Receipts Cycle(p.513)
2 Understanding the Internal Control Structure(p.513)
3 Preliminary Assessment of Control Risk(p.521)
4 Tests of Controls(p.524)
5 Review of Preliminary Assessment of Control Risk(p.529)
6 Substantive Audit Procedures(p.530)
7 Auditing the Sales and Cash Receipts System in an IT Environment(p.542)
8 Summary(p.546)

12. Auditing the Purchases and Payments Cycle(p.563)

Learning Objectives(p.563)
Key Ordinances / Standards Covered in the Chapter(p.563)
1 Description of the Purchases and Payments Cycle(p.564)
2 Understanding the Internal Control Structure(p.565)
3 Preliminary Assessment of Control Risk(p.570)
4 Tests of Controls(p.573)
5 Review of Preliminary Assessment of Control Risk(p.578)
6 Substantive Audit Procedures(p.578)
7 Auditing the Purchases and Payments System in an IT Environment(p.588)
8 Summary(p.590)

13. Auditing the Production Cycle(p.609)

Learning Objectives(p.609)
Key Ordinances / Standards Covered in the Chapter(p.609)
1 Description of the Production Cycle(p.610)
2 Understanding the Internal Control Structure(p.610)
3 Preliminary Assessment of Control Risk(p.614)
4 Tests of Controls for Manufacturing Transactions(p.616)
5 Review of Preliminary Assessment of Control Risk(p.618)
6 Substantive Audit Procedures(p.618)
7 Audit of Beginning Inventory on First Time Engagement(p.625)
8 Inventories Taken Prior to Balance Sheet Date(p.625)
9 Audit Steps for Observing Physical Inventory(p.626)
10 Audit of Inventory in an IT Environment(p.630)
11 Summary(p.632)

14. Auditing the Payroll and Personnel Cycle(p.653)

Learning Objectives(p.653)
Key Ordinances / Standards Covered in the Chapter(p.653)
1 Description of the Payroll and Personnel Cycle(p.654)
2 Understanding the Internal Control Structure(p.656)
3 Preliminary Assessment of Control Risk(p.660)
4 Tests of Controls for Payroll Transactions(p.662)
5 Review of Preliminary Assessment of Control Risk(p.664)
6 Substantive Audit Procedures(p.665)
7 Auditing the Payroll System in an IT Environment(p.668)
8 Summary(p.669)

15. Auditing Other Assets, Equities and Liabilities(p.687)

Learning Objectives(p.687)
Key Ordinances / Standards Covered in the Chapter(p.687)
1 Fixed Assets(p.688)
2 Other Asset Balances(p.696)
3 Owners' Equity(p.704)
4 Liabilities(p.708)
5 Accounting Estimates(p.713)
6 Summary(p.717)

16. Profit and Loss Disclosures and Completing the Audit(p.737)

Learning Objectives(p.737)
Key Ordinances / Standards Covered in the Chapter(p.737)
1 Profit and Loss Disclosures(p.738)
2 Completing the Audit(p.741)
3 Summary(p.751)

17. Audit Reporting Practices(p.779)

Learning Objectives(p.779)
Key Ordinances / Standards Covered in the Chapter(p.779)
1 Auditor's Reporting Responsibility(p.780)
2 Unmodified Reports(p.784)
3 Modified Reports(p.790)
4 Summary(p.807)

18. Internal and Operational Auditing(p.829)

Learning Objectives(p.829)
Key Ordinances / Standards Covered in the Chapter(p.829)
1 Internal Auditing(p.830)
2 Operational Auditing(p.838)
3 Summary(p.849)